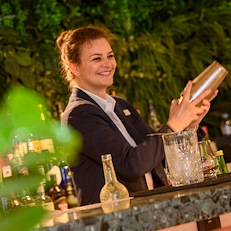 Célia Cazals
Head Bartender
Célia Cazals
Head Bartender
Originally from Nice, Célia brings soul to Latitude Bar's mixology. London trained, she has created a menu that is full of character and inspired by botanicals. Each cocktail is harmoniously flavoured and scented using delicious, seasonal fruits. She heads a team of three talented and passionately competitive mixologists who create drinks from her seasonally refreshed menu.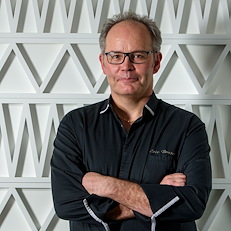 Eric Brujan
Executive Chef
Eric Brujan
Executive Chef
Eric honed his gastronomic skills and passion for quality produce at Joël Robuchon's Les Celebrities restaurant, Hotel Nikko de Paris, as well as at Hotel Montalembert. He went on to work at Le Méridien Etoile where he brought great renown to L'Orenoc restaurant. Having overseen the culinary team at Le Méridien Nice since 2013, he has continued his journey to champion taste. His commitment combines a personal love of local, natural produce and Provençal flavours, alongside international and Asian influences, to create authentic and balanced cuisine.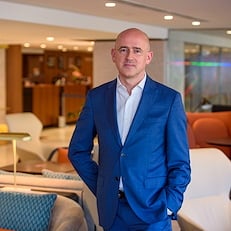 Stéphane Dartois
General Manager
Stéphane Dartois
General Manager
Originally from Belgium, Stéphane has travelled the world, starting his career as Food & Beverage Manager at the legendary Hôtel Plaza Athénéé in New York. Travelling to London and later Dubai he worked at the Waldorf Astoria before taking on the role of General Manager at The St Regis. In 2019 he returned to France to become General Manager at Le Méridien Nice, where his experience in international luxury hospitality expertly supports the Latitude Bar & Restaurant.